Wusthof Classic Ikon 11-Piece Knife Set with Block
This tasteful 11-piece kitchen knife block set comes with a range of the most desirable knives for daily family food preparation.
Wusthof Classic Ikon 11-Piece Knife Set with Block, Black
Wusthof Classic Ikon is a culmination of all the best features of each of the Wusthof knife lines.
The combined riveted handle design is combined with a contoured shape to add comfort and control.
The Classic Ikon adds a rear bolster that acts as a counter balance when using the knife. This second bolster adds significant blade control.
The Wusthof Classic Ikon set also has unique forward bolsters as well. The forward partial bolster is designed so you can sharpen the complete length of the blade.
This bolster is also curvered inwards to allow your fingers greater control while holding the knife by the blade. Located in, The Cutlery Capital of the World, Solingen Germany, the Wusthof factory history goes back as far as 1814 when the company was listed with the Duchy of Berg.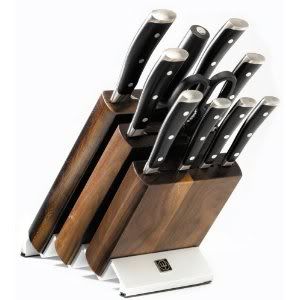 The ingredients of this steel are proudly etched on each blade. Wusthof not only uses the best materials to make a fine knife, but it is also crucial that each blade is precisely tempered.
This tempering allows the knife to hold its edge for an extremely long time, yet still be able to be maintained in your home kitchen with out the need to be sent away for maintenance. Our unique compound angle is not seen in many knives.
This angle tapers from the spine of the knife to the edge to allow for a sturdy, yet extremely sharp edge while it also tapers from the bolster to the tip to give the knife strength as well as flexibility.
Wusthof Classic Ikon Features:
Precision forged from single piece of high-carbon German stainless steel, laser-controlled and tested cutting edge
Double bolsters provide heft and balance for effortless cutting
Full tang extends through the handle
Triple-riveted black handles with innovative contoured design
Contemporary three-tiered wood knife block
Hand washing recommended
Backed by limited lifetime warranty
Made in Germany
This 11-Piece Wusthof Classic Ikon Knife Set Includes:
9″ Sharpening Steel
8″ Bread Knife
8″ Cooks Knife
7″ Santoku
5″ Boning Knife
4.5″ Utility Knife
3.5″ Parer
(3) x 3″ Straight Parer
Kitchen Shears
10-Slot Contemporary Storage Block
Wusthof Block Set Rating:

(out of 1 reviews)


Click on the 'Buy from Amazon.com' button for more Wusthof Classic Ikon Block Set information and reviews or click on the link below.
Return from Wusthof Classic Ikon to Chef Knives Sets homepage.
Just click on the picture at the top to view the hottest sale offers.
Check out the knife sets with blocks in the sidebar at the right hand side of the page, or select a Knife Set With Block from hundreds for sale here >>> Knife Set With Block